Interactive Content
Here you'll find links to some very unique interactive studies!
Interactive
One of the methods of Bible study I have learned to enjoy is technical but, fundamentally, isn't really very difficult to understand. It has to do with gaining special insight into the context. Most people don't realize that linguistic patterns are inherent in the holy scriptures, and that these explain what seems at times to be an excessive amount of repetition in the biblical text. The Author was not being verbose or flowery to merely embue the holy scriptures with a poetic or lyrical quality. The thematic patterns formed are symmetrical and by this means the Author actually conveys emphasis and even profound insight to the diligent student.
Daniel 10:16-18


16 And behold,
one who resembled a human being
was touching my lips
;

then I opened my mouth and
spoke and said to him who was standing before me
,
"O my lord, as a result of the vision anguish has come upon me, and
I have retained no strength
.


17 For how can such a servant of my lord
talk with such as my lord?
As for me,
there remains just now no strength in me
, nor has any breath been left in me."

18 Then this
one with human appearance
touched me again
and strengthened me.
This form of communication survives the translation of the original languages, transmitting effectively into other languages like English and Russian, etc.
This is useful for interpretation because it has everything to do with context. Structural analysis is useful, exposing another level of profound meaning, but as with every endeavor to discover what the Author means, the leading of the holy spirit in this field of study remains an essential.
This is not for those who like to be "fed through a straw," so to speak, but for those who are skilled with a fork and knife.
See also this page explaining more about patterns inherent in the biblical text: Bible Code Revelations
See also this website that features the software used to develop these studies and to present them in this special way: Chiasmatron 2000
Here's another example, with commentary.

Interactive Exhibits of Thematic Structure
Genesis 1:14-18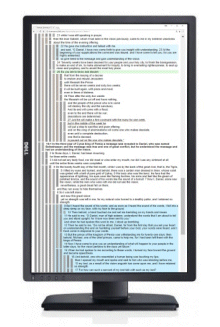 Genesis 1:14-18 (Hebrew)
Бытие 1:14-18

Genesis 1:24-31
Genesis 3:14-19
Бытие 3:14-19

Genesis 9:1-19
Genesis 45:4-9
Joshua Chapters 3 and 4
Joshua Chapters 3 and 4 - Septuaginta (LXX Greek text)
Ezekiel 1
Daniel Chapters 7 through 12
Matthew 24
от Матфея 24

Matthew 24 (Greek - UBS5)
Luke 17:5-19
John 13
1 Corinthians 9
1 Corinthians 11:1-17
1 Corinthians 15
1 Thessalonians 4:1-5:22
2 Thessalonians 2:1-12
II Thessalonians 2:1-12 & 3:6-15 (Companion Bible)
2 Peter 3
Revelation Chapters 4 through 11
Revelation 12
Revelation 13
Revelation 14
Revelation 17 & 18
Some studies where these interactive passages are featured to complement the teaching
As a software developer, I wanted to find a better way to present these structures using modern technology, so I developed an app called
the Chiasmatron 2000
. If this work interests you, contact admin@chiasmatron2000.com to request a free trial.
Headcovering (1 Corinthians 11:1-17)
The Sign for the Bride - Part 1 (2 Thessalonians 2:1-12)
Joseph and Benjamin - Part II (Genesis 45:4-9)