When Cometh That Thief in the Night
So teach us to number our days, That we may present to You a heart of wisdom ... Do return, O Lord; how long will it be?
Psalm 90:4, 13a
It is the glory of God to conceal a matter, But the glory of kings is to search out a matter.
Proverbs 25:2
The God and Father of my Lord Jesus Christ, Y'shua HaMashiach, moves sovereignly over His creation. He appoints times and fulfills His promise to reveal all things before they are brought to pass. This collection of writings bears witness to that truth as the Lord of Glory is opening the scroll of the book and granting insight into things that have long been held beyond the veil. The veil obscuring the Lord's plans from our eyes is retreating, being moved back to reveal even His schedule of appointments with man, according to His steadfast promises.
Surely the Lord God does nothing Unless He reveals His secret counsel To His servants the prophets.
Amos 3:7
This compilation of studies is no chart intensive rehash of popular traditions. Neither is it a collection of arguments for or against pre-trib, mid-trib or post-trib rapture theories - because - when you see the elegant simplicity of the unfolding plan there will be no need.
Have you ever considered what it might mean that this church age began on the day of Pentecost, the Jewish festival that is known also as Shavuot? I had been taught by respected scholars that this observation didn't really mean anything because the church age was a secret and that it was disconnected from the Jewish calendar. Eventually, however, as I learned to trust in the Lord's own leading, I came to reject those views. The so-called Jewish calendar, at least the biblical version of it, is the Lord's own calendar, and He is the Head of the church of His Body. The remarkable events documented in the second chapter of Acts did truly fulfill the prophetic Feast precisely on the appointed schedule - but yet only in part, because the firstfuits of the wheat harvest it conceals in shadow is still yet to come!
Honestly, we are no smarter than those who have gone before us. Over the years, men of far greater intellect than I have tried in vain to discover the Lord's schedule of appointments with man. Such treasure as that has been deeply hidden but, by His grace, it's our privilege and legacy to discover, in this late hour, such an unfolding revelation!
A wonderful promise was made to the prophet Daniel.
8 As for me, I heard but could not understand; so I said, "My lord, what will be the outcome of these events?" 9 He said, "Go your way, Daniel, for these words are concealed and sealed up until the end time. 10 Many will be purged, purified and refined, but the wicked will act wickedly; and none of the wicked will understand, but those who have insight will understand.
Daniel 12:8-10
I want to pause for a moment. Right now - stop and reflect on what I'm about to tell you, because there is wisdom here for the wise. This study is not merely academic. No one cracks the safe where these treasures are kept with the force of their intellect or even the intensity of their desire to know. Read what Daniel was told again, in verse 10, because a comparison and contrast is made. Character cannot be overlooked. If you're not dealing honestly with your own wicked character, practicing obedience in genuine humility and walking and abiding in the Master's love, don't waste your time here. The Lord Jesus Christ knows you, through and through. He is the concealer and revealer of secrets. Whatever you find here that is of true value you will only acquire in the same way that I do, from Him.
Let me state the goal plainly. It should not be our intent to merely have a look at His appointment book, but rather to be found in Him as a true friend, familiar with His ways and able to be trusted with the intimate knowledge of His plans and, ultimately, to be found worthy of the Bridgroom Himself.
9 His disciples began questioning Him as to what this parable meant. 10 And He said, "To you it has been granted to know the mysteries of the kingdom of God, but to the rest it is in parables, so that seeing they may not see, and hearing they may not understand.
...
17 For there is nothing hidden that will not be disclosed, and nothing concealed that will not be known or brought out into the open.
Luke 8:9-10, 17
The Lord's schedule has surely been concealed, but even such deep secrets must be brought out into the open. This is why the Lord counseled us to watch and pray, to stay awake, alert and sober. In this way, we become able to interpret this present time, which is rightly expected of us!
54 And He was also saying to the crowds, "When you see a cloud rising in the west, immediately you say, 'A shower is coming,' and so it turns out. 55 And when you see a south wind blowing, you say, 'It will be a hot day,' and it turns out that way. 56 You hypocrites! You know how to analyze the appearance of the earth and the sky, but why do you not analyze this present time?
Luke 12:54-56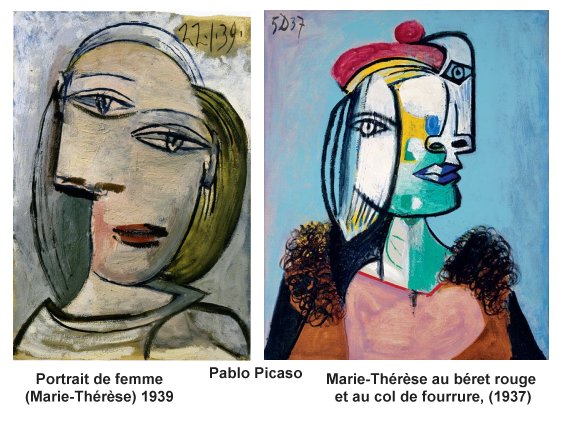 The plan of God for the age can be compared to a jigsaw puzzle. We students of the scriptures have had only a limited number of the puzzle pieces and no picture of the completed puzzle for a guide, like you find on the cover of the puzzle box. What we see today in the doctrines of the Church can be compared to a partially assembled Picasso. Different doctrinal and historical parts of the puzzle have been put together with regard to matching shapes but not colors, or, vice versa, with pieces being forced where they don't really fit.
The first thing a skillful jigsaw puzzle assembler does is to find all the pieces with a straight edge, because these form the border. The border defines the puzzle's dimensions and gives it structure. This is where a wise builder begins the work because it establishes the context within which the other pieces fit.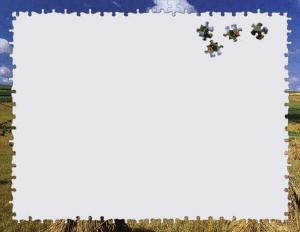 Friends, the border pieces are those dealing with chronology. Just like how chronology gives order to the events of the past, it gives order to what we know about the future, the subject of what we see in the present time as prophetic. Knowledge of the order and sequencing of events enables us to fit the border of the puzzle together. When we know the order of the events, the relationship between the events exposes crucial information that unveils their meaning. When we get a block of pieces fitting together, we step back and with a new perspective begin to see how the various blocks of pieces are looking and the picture of the whole plan on the cover of a box we've never seen begins to come into view.
If you understand about the Bible's harvest allegory, you may understand these studies collected into, "When Cometh That Thief in the Night," as a kind of Farmer's Almanac for the age. An almanac is a precious resource for a wise farmer. An almanac is: "An annual publication including calendars with weather forecasts, astronomical information, tide tables, and other related tabular information." The almanac is used for a timely guide to the signs and seasons that are the key to successfully producing a high-yield crop. Are you familiar with the parable of the sower and the seed, of the soils, which is declared to be the basis for understanding parables? Is your labor going to produce a bountiful crop?
7 Therefore be patient, brethren, until the coming of the Lord. The farmer waits for the precious produce of the soil, being patient about it, until it gets the early and late rains. 8 You too be patient; strengthen your hearts, for the coming of the Lord is near.
James 5:7-8
This is now the latter rain and the coming of the Lord is near, yet patience is required, still.
With the gaining of much insight there is the temptation to pridefully exalt oneself, but the Lord is able to remind us who we really are and that we have nothing of ourselves to be proud of. Frankly, we know precious little, but if we seek Him first and accept His provision, it is enough!
For now we see in a mirror dimly, but then face to face; now I know in part, but then I will know fully just as I also have been fully known.
1 Corinthians 13:12
Even having received an apostolic anointing, I see only in part. I accept responsibility for my workmanship and so must you.
It is my prayer that this collection of studies will be a blessing to you as you seek The One who is Truth with your whole heart. May you find His joy as you are further conformed to His will and learn obedience in all things. By the grace of Y'shua haMashiach, may there come a drawing near to Him with an increasing level of intimate communion to sustain and encourage you. May The One who opens the ears and eyes grant you a revelation of Himself that will stir in you the most passionate love. And, may you be found worthy of Him at His coming!
9 In addition to being a wise man, the Preacher also taught the people knowledge; and he pondered, searched out and arranged many proverbs. 10 The Preacher sought to find delightful words and to write words of truth correctly. 11 The words of wise men are like goads, and masters of these collections are like well-driven nails; they are given by one Shepherd. 12 But beyond this, my son, be warned: the writing of many books is endless, and excessive devotion to books is wearying to the body. 13 The conclusion, when all has been heard, is: fear God and keep His commandments, because this applies to every person. 14 For God will bring every act to judgment, everything which is hidden, whether it is good or evil.
Ecclesiastes 12:9-14