Entering into the Freedom of Giving and Receiving
A mature saint's attitude about mammon, about material things, personal finances, wealth and earthly possessions, recognizes how what is under our control really is the Lord's, because we were bought with a price.
19 Or do you not know that your body is a temple of the Holy Spirit who is in you, whom you have from God, and that you are not your own? 20 For you have been bought with a price: therefore glorify God in your body.
1 Corinthians 6:19-20
You were bought with a price; do not become slaves of men.
1 Corinthians 7:23
What does a slave have that does not belong to his master? What we would consider ours is only ours to steward as it pleases the master.
This is not a study about tithing. The Lord did not purchase 10% of you. Are you truly His? You are owned, 100%. We will give account of ourselves, of our stewardship of any and every resource at our command. We will no more duck this than any other area when all things are brought to judgment.
Here is a great paradoxical truth. Only those who have fully submitted themselves as true slaves are truly free in the Lord. Taking up the cross and being genuinely dead to self is a requirement for this kind of life. This study is about growing up and honoring the Lord with our whole selves, everything we are, in the category of material responsibility. I pray that you will be inspired to overcome false teachings and misrepresentations and the deceitfulness of the sinful, greedy, selfish, lustful, envious, rebellious and fearful nature of the flesh and become free as The Truth sets you free. I pray that you will receive what the Lord has provided in the holy scriptures for our benefit.
Here's the general principle about giving, receiving and proportional return.
Give, and it will be given to you. They will pour into your lap a good measure—pressed down, shaken together, and running over. For by your standard of measure it will be measured to you in return.
Luke 6:38
And, here's insight into what money is good for, with some further insight for the wise.
1 Now He was also saying to the disciples, "There was a rich man who had a manager, and this manager was reported to him as squandering his possessions. 2 And he called him and said to him, 'What is this I hear about you? Give an accounting of your management, for you can no longer be manager.' 3 The manager said to himself, 'What shall I do, since my master is taking the management away from me? I am not strong enough to dig; I am ashamed to beg. 4 I know what I shall do, so that when I am removed from the management people will welcome me into their homes.' 5 And he summoned each one of his master's debtors, and he began saying to the first, 'How much do you owe my master?' 6 And he said, 'A hundred measures of oil.' And he said to him, 'Take your bill, and sit down quickly and write fifty.' 7 Then he said to another, 'And how much do you owe?' And he said, 'A hundred measures of wheat.' He said to him, 'Take your bill, and write eighty.' 8 And his master praised the unrighteous manager because he had acted shrewdly; for the sons of this age are more shrewd in relation to their own kind than the sons of light. 9 And I say to you, make friends for yourselves by means of the wealth of unrighteousness, so that when it fails, they will receive you into the eternal dwellings. 10 "He who is faithful in a very little thing is faithful also in much; and he who is unrighteous in a very little thing is unrighteous also in much. 11 Therefore if you have not been faithful in the use of unrighteous wealth, who will entrust the true riches to you? 12 And if you have not been faithful in the use of that which is another's, who will give you that which is your own? 13 No servant can serve two masters; for either he will hate the one and love the other, or else he will be devoted to one and despise the other. You cannot serve God and wealth." 14 Now the Pharisees, who were lovers of money, were listening to all these things and were scoffing at Him. 15 And He said to them, "You are those who justify yourselves in the sight of men, but God knows your hearts; for that which is highly esteemed among men is detestable in the sight of God.
Luke 16:1-15
Look in the mirror. Go ahead. Are you ready to make an honest assessment? Have you been faithful in little? Are your expectations of reward well founded? Let your deeds suggest to you who your master is. Are you content to let your reward be that of a hypocrite? Are you burdened about such things, or have you entered into the freedom of a slave?
Here's a simple set of commands about material possessions that are really tough to accept and abide.
Give to everyone who asks of you, and whoever takes away what is yours, do not demand it back.
Luke 6:30
Can you imagine a community where people actually obeyed commands like these? It would be like this.
42 They were continually devoting themselves to the apostles' teaching and to fellowship, to the breaking of bread and to prayer. 43 Everyone kept feeling a sense of awe; and many wonders and signs were taking place through the apostles. 44 And all those who had believed were together and had all things in common; 45 and they began selling their property and possessions and were sharing them with all, as anyone might have need. 46 Day by day continuing with one mind in the temple, and breaking bread from house to house, they were taking their meals together with gladness and sincerity of heart, 47 praising God and having favor with all the people. And the Lord was adding to their number day by day those who were being saved.
Acts 2:42-47
This is the life of the church of the living God when freedom is being enjoyed.
Many of the passages of primary interest are found in the church epistles. In this text, Paul probes the sincerity of the Corinthians.
7 But just as you abound in everything, in faith and utterance and knowledge and in all earnestness and in the love we inspired in you, see that you abound in this gracious work also. 8 I am not speaking this as a command, but as proving through the earnestness of others the sincerity of your love also. 9 For you know the grace of our Lord Jesus Christ, that though He was rich, yet for your sake He became poor, so that you through His poverty might become rich. 10 I give my opinion in this matter, for this is to your advantage, who were the first to begin a year ago not only to do this, but also to desire to do it. 11 But now finish doing it also, so that just as there was the readiness to desire it, so there may be also the completion of it by your ability. 12 For if the readiness is present, it is acceptable according to what a person has, not according to what he does not have. 13 For this is not for the ease of others and for your affliction, but by way of equality— 14 at this present time your abundance being a supply for their need, so that their abundance also may become a supply for your need, that there may be equality; 15 as it is written, "He who gathered much did not have too much, and he who gathered little had no lack."
2 Corinthians 8:7-15
Many readers of the church epistles interpret Paul's language in that passage and in others that are similar to mean that he wasn't really acting on behalf of the Lord, that he was operating independently and without genuine authority. That kind of thinking allows the carnal mind to dismiss Paul's wisdom as a collection of mere opinions and suggestions. If that's you, you might be particularly interested in the demonstration I'm shortly going to make, because Paul has some very important insight to offer.
When Paul wrote in the next chapter, it was still in the context of receiving funds from those with an abundance for a distribution among the saints living in other regions who were suffering lack.
6 Now this I say, he who sows sparingly will also reap sparingly, and he who sows bountifully will also reap bountifully. 7 Each one must do just as he has purposed in his heart, not grudgingly or under compulsion, for God loves a cheerful giver. 8 And God is able to make all grace abound to you, so that always having all sufficiency in everything, you may have an abundance for every good deed; 9 as it is written, "He scattered abroad, he gave to the poor, His righteousness endures forever." 10 Now He who supplies seed to the sower and bread for food will supply and multiply your seed for sowing and increase the harvest of your righteousness; 11 you will be enriched in everything for all liberality, which through us is producing thanksgiving to God.
2 Corinthians 9:6-11
I recommend reading the entire chapter at least once for context. The blessings described were conditional, and for them, then. They cannot be claimed generally for any others at any other time, but yet, there are lessons there about the fundamental principles involved. How the Lord may choose to operate at any other time, in some similar situation, depends upon His own purposes and His own good pleasure.
To enter into the freedom of giving it must be done freely, without striving under the burden of obligation. Without having come to the place of being able to give in this way, according to the Lord's good pleasure as to what is given, when and how and to whom, the real freedom of receiving will also be lacking.
Here's what Paul wrote later to the church at Corinth.
7 Or did I commit a sin in humbling myself so that you might be exalted, because I preached the gospel of God to you without charge? 8 I robbed other churches by taking wages from them to serve you; 9 and when I was present with you and was in need, I was not a burden to anyone; for when the brethren came from Macedonia they fully supplied my need, and in everything I kept myself from being a burden to you, and will continue to do so. 10 As the truth of Christ is in me, this boasting of mine will not be stopped in the regions of Achaia. 11 Why? Because I do not love you? God knows I do! 12 But what I am doing I will continue to do, so that I may cut off opportunity from those who desire an opportunity to be regarded just as we are in the matter about which they are boasting. 13 For such men are false apostles, deceitful workers, disguising themselves as apostles of Christ. 14 No wonder, for even Satan disguises himself as an angel of light. 15 Therefore it is not surprising if his servants also disguise themselves as servants of righteousness, whose end will be according to their deeds.
II Corinthians 11:7-15
A few verses later we read:
13 For in what respect were you treated as inferior to the rest of the churches, except that I myself did not become a burden to you? Forgive me this wrong! 14 Here for this third time I am ready to come to you, and I will not be a burden to you; for I do not seek what is yours, but you; for children are not responsible to save up for their parents, but parents for their children. 15 I will most gladly spend and be expended for your souls. If I love you more, am I to be loved less? 16 But be that as it may, I did not burden you myself; nevertheless, crafty fellow that I am, I took you in by deceit.
II Corinthians 12:13-16
Paul wrote the following to Timothy, passing on his wisdom as led by the Lord.
17 The elders who rule well are to be considered worthy of double honor, especially those who work hard at preaching and teaching. 18 For the Scripture says, "You shall not muzzle the ox while he is threshing," and "The laborer is worthy of his wages."
I Timothy 5:17-18
If someone is truly your servant in the Lord, you are responsible to provide for them. It's a simple principle.
I already introduced the principle of proportional return, which is the Lord's declaration of Luke 6:38. A related principle is described in 2 Corinthians 8 where our giving is judged as, "acceptable according to what a person has, not according to what he does not have." How does the rigid 10% of the tithe fit into the picture? Despite the well crafted but twisted up versions that are typically promoted as sound biblical doctrine, it doesn't. If it's your assessment that the Lord Jesus Christ paid for you on the basis of 10%, pay that. He will surely weigh in on the matter at the appointed time. So, am I suggesting that we should all give 100% of our income away? Let me be clear on this. I'm telling you that you are going to be held accountable for your stewardship of everything the Lord has given you, which is honestly, everything you have, had, or ever will have. Accept that responsibility in the fear of God and He will help you learn to be a faithful steward. Petty selfish concerns will fall away as freedom comes.
If you have been ministering and receiving income based upon false teaching or with selfish motivation, you have to repent - or you will suffer the consequences. Fleecing the flock is a grievous offense. Restitution may even be called for.
Here's a special exhibit of 1 Corinthians 9, from the NASB. The book is, of course, attributed to Paul. Examine it closely enough to be able to agree that it does indeed bear a seal of authority. Even without such a demonstration as this interactive presentation provides, the holy spirit should adequately convict a believer of the authority of those words.
I invite you to take some time with that on your biggest monitor screen. The display isn't well adapted to small screens or phones and tablets. Meditate upon the companion sections. Seek the Lord for how they compare, whether in agreement or in contrast, and in what ways they compare. Some matches are less obvious, and those are usually the more profound.
The following is a non-interactive version of the same thematic structure that is illustrated above, with indentation and notation for ease of reference. I did this analysis several years ago, long before I was able to develop the tools to produce an interactive version. This static version is still useful as a visual guide to see some of the relationships illustrated with color and indented alignments. In a prior version of this study I included lengthy commentary. It's been cut from this version, and in its stead, I am directing you to trust the holy spirit to teach and guide you through an exploration of the interactive version. Feel free to keep other Bible versions open for reference as you do.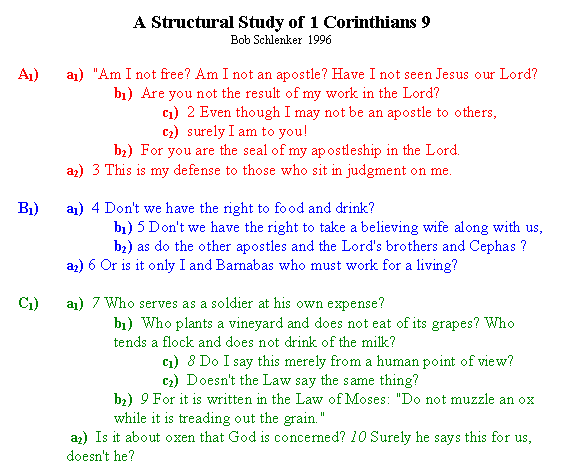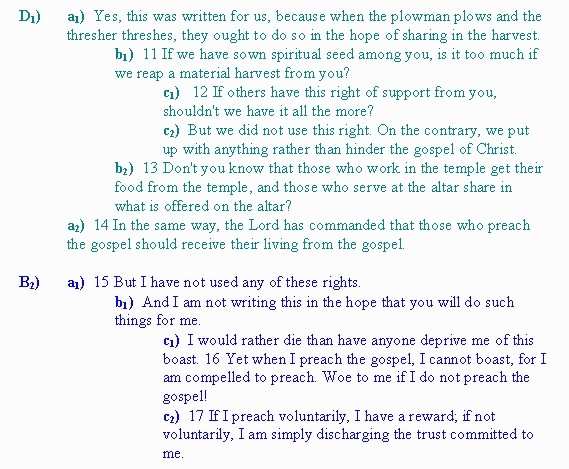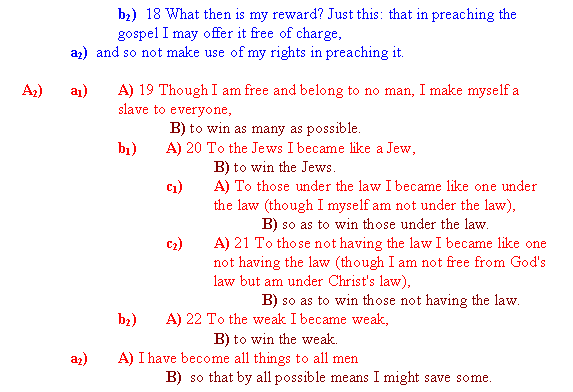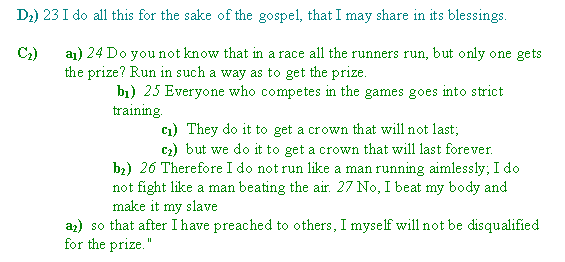 Based upon my structural analysis of the entire chapter of I Corinthians 15 (which you can find in the interactive version here), I conclude that the following is the focal verse of the whole chapter.
Therefore, my beloved brethren, be steadfast, immovable, always abounding in the work of the Lord, knowing that your toil is not in vain in the Lord.
I Corinthians 15:58
May it be so with you, in the power and strength of the Lord Y'shua, whose love is irresistible.